Mainstream town high street style and instagram style are not synonymous. In fact in the case of my town quite the contrary.
Take these Gucci loafers.
If I wore something like this out (and yes they are shoes) the most polite of people will think I've had an accident on my feet (I could stop there but will continue with the sentence) and need to wear my slippers, or that I'm eccentric. No one will say 'oh look lovely Gucci this year mule shoes '. No one! Would they in your town?
Looking around local feet I'm seeing trainers, ankle boots or booties, ballet pumps and traditional loafers. Not one person walking into Sainsbury's is sporting furry velvet mule shoes. Yet they are on IG. Do they get worn for the pic then removed? Am I not mixing in the right circles? Am I shopping the wrong Sainsburys? Is there a Sainsburys where anyone in the 'know' is wearing furry Gucci? (Most likely is Waitrose!) Is my local bar not the right bar?
Now. I confess that I have bought some lookalikes here from Ego for a smidge under £30. The reason, well not to wear on the high street, so hear me out.
Photo Ego site
How often do you have guests at home. You are dressed in finery and bejewelled. Hair done. Lipstick bright. Food and drinks served on best China. Silver cutlery gleaming. Then the feet...shoes? Or slippers? I don't know about you but I don't feel right wearing shoes in my own home. Yet slippers are too casual.Oh, the dilema! I thought these mules may be an ideal solution. I grant you that my guests are unlikely to say 'oh Gucci wannabe furry mule shoes ' but in that environment of entertaining I would be able to say to my friends 'oh, these, just Gucci wannabe furry mule shoes,' and we can all laugh at me.
PS. here is an example of me wearing them when we entertained in March. I can confirm that no one said '
oh Gucci wannabe furry mule shoes '
A more sensible shoe purchase is a pair of trainers from M&S. Just look at these babies.
http://www.marksandspencer.com/lace-up-star-trainers-with-insolia-flex/p/p60110421?&pdpredirec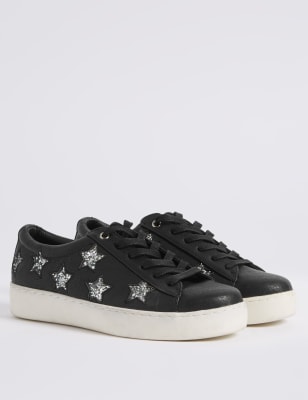 Photo M&S site
Sadly they are now out of stock so I can't refer you. I hope they come back in again. It looks like I purchased just in time.
My new trainers in black arrived on my life on Saturday. I had one disappointment and that is that the stars are glitter so I do wonder how well they will stay on.
I have an idea to spray them with carbon coll. The can says waterproofing via a carbon net. Maybe this 'net' will constrain the glitter.
I bought this from Amazon on recommendation of a random youtube I watched.