T
oday I want to tell you about an Instagram friend and her fabulous range of jewellery. Joy has always been interested in style and as she reached mid life this became far more important than fashion; hand in hand with style goes jewellery but increasingly the frustration of not being able to find a great selection of quality, sophisticated jewellery on the High Street encouraged her to start her enterprise. This has led her to bring her love to the online masses
where at
So

phisticato Jewellery UK
she retails brands that she has sourced for their chic appeal, particularly for the midlife woman.
I met Joy a few weeks ago and she unloaded her range on a table for me to browse. I was struck by the quality and variety, ranging from handmade in Kenyan communities to traditional silver from Chris Lewis with a detour to Boho Betty.
To my mind what makes Joy's range stand out is the thought that has gone into collecting and sourcing products that we midlife woman of style would like. She's taken the hard work out of shopping for us.
A brand that is stocked at Sophisticato particularly struck me.

Kazuri, which means small and beautiful in Swahil

is hand-painted ceramic jewellery.
This Kenyan range contains beads hand shaped made by local women and this work provides them with an independent income.
Founded by the late Lady Susan Wood, Kazuri is still located where she first started creating employment for struggling single mothers back in 1975. The women employed by Kazuri receive a salary 3 times more than the average national wage in Kenya. Full medical cover is offered to employees and their relatives: 80% of medical costs in public hospitals are supported by Kazuri, a clinic is located within the grounds of the property for basic medical care, prevention of AIDS and family planning. Through its social commitment and contribution in creating jobs for women in difficulty, it is natural that the company enjoys the label IFAT (International Fair Trade Association) in recognition of its social commitments to Fairtrade.
Isn't that a super, life enforcing story!
Normally Joy sticks to British designers but it was the wonderful story behind Kazuri that led her to stock this brand.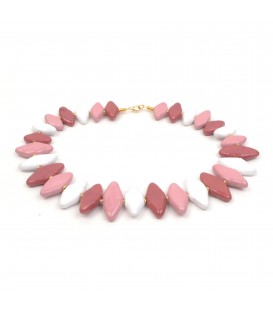 I chose a neutral version for my wardrobe, called Domino.
I tend to wear quite a lot of stone colours, although if I had a large enough budget I would have bought the mustard and the pink that I have shown above.
Styling it with neutrals that picked out the pebble colours made a perfect outfit for a June evening for sitting in a beer garden.
My jacket is thrifted. Yes, another one! Do I ever buy new jackets? It appears not.
Joy is offering a discount code M
S15 on
checkout
enabling 15% off her website, any brand. Do go and browse. She ships internationally too. If you are an international reader what better opportunity to stock up on some unique jewellery.
If you like this post I'd really appreciate you going to the top of the page and finding subscribe on the top right to opt in to my posts. In theory you would then get an email of some description from Blogger.
Please do follow me on
Instagram
and
Pintrest
and subscribe to my blog (up at the top of the page)
My necklace in Domino was gifted but my choice and it is totally in keeping with my style and I love it. You will no doubt see it often on my IG and blog.